Air Conditioning & Heating Maintenance - Ra-Jac Services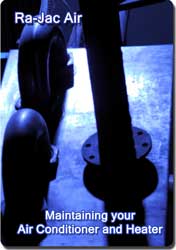 Air conditioning and Heating Maintenance - With the proper routine maintenance your air conditioning and heating equipment will work more economically and be more dependable for the years to come. We outline the basic procedures you should expect when you have your unit serviced as well as outlining a few relatively easy and routine maintenance procedures you can do yourself to help your HVACR service professional keep your unit at peak performance and get the maximum amount of comfort from your HVAC system.
Self Maintenance Overview - Air Conditioning Maintenance - Heater Maintenance - Humidifier Maintenance - Ventilator Maintenance
Professional Air Conditioning and Heating Maintenance - If you choose to skip regular maintenance you will find yourself paying for a major repair down the line, cost yourself more money in energy costs, and be inconvenienced in the long run. For maximum performance and long life have a professional perform needed maintenance on your air conditioner in the spring and your furnace or heat pump in the fall.
Professional Maintenance Overview - Professional Heater Maintenance - Professional Air Conditioning Maintenance
Important - Please read our disclaimer and the following safety procedures before you attempt any maintenance work yourself. If you are unsure about any of the procedures or are uncomfortable for any reason do not attempt to perform any procedure. Instead get a professional to assist you.
Company Profile of Ra-Jac Services Air Conditioning and Heating TX - Our goal - Since 1966 we have been providing professional and affordable residential, commercial and industrial air conditioning and heating service and installation to our customers in and around the Galveston County area. Our goal is exemplary service built on honesty, education, certification, and high ethical standards. As a result we are quickly growing into one of the leading heating and air condition service companies in the Southern Texas area.
Call us at (409) 945-4171 for service in the following Areas - If you are in the Algoa, Arcadia, Bacliff, Bayou Vista, Clear Lake City, Clear Lake Shores, Dickinson, El Lago, Friendswood, Galveston, Hitchcock, Kemah, La Marque, League City, Nasa Area, Nassau Bay, San Leon, Santa Fe, Seabrook, Taylor Lake Village, Texas City, Tiki Island, or the Webster Texas areas and want a professional to maintain your air conditioning, heating or air cleaning and filtration system contact us at (409) 945-4171. We provide 24-hour emergency service to keep your home and office air conditioner and heater working efficiently and effectively. Your comfort is our top priority.
10 REASONS TO CHOOSE RA-JAC