6 Common Air Conditioning and Heating Installation Problems
Top 6 Air Conditioning and Heating Installation Mistakes - In 42 plus years in business we have just about seen it all, from plenums made of cardboard to units installed upside down but there are 6 common mistakes that we see all the time in our line of work. Have you been a victim of one of these basic air conditioning and heating blunders? Check out the list below and find out.

1) Improperly Sized System - One of the most common problems with an air conditioning or heating system is being too large or too small. To avoid this problem make sure they run a proper load calculation for the job. A reputable heating and air conditioning contractor will come to your home or job site to make an inspection before any bid is made. A proper load calculation should be done at this time using computer software or professional guidelines like the Air Conditioning Contractors of America's Manual J. The contractor should spend a half hour or more measuring ceilings, windows, floors, and walls, and checking the insulation or R value of the home. Equipment that is oversized will not provide proper humidity control, and will cost more to operate. Equipment that is undersized will not be able to provide sufficient comfort and will run more, which means higher energy bills and a shorter life span.
2) Improperly Sized Ductwork - Another common problems is improperly sized ducts. Duct and register size should also be based on this load calculation for proper operation. Undersized return air or supply ducts can impede efficiency and overwork your compressor resulting in early equipment failure.
3) Improperly Sealed Ducts - Duct work that has not been properly sealed will leak and loose valuable cooling or heating into the attic or other undesirable area which can cost you money.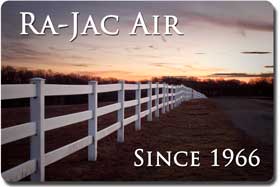 4) Improperly Installed Drains - Another common problem is an improperly installed drain line or drains installed without an emergency overflow pan. No matter how well maintained there is always a chance that a main drain will fail and water will leak through your ceiling or walls. Condensate drains that have not been installed according to the mechanical code can cause other problems such as drafting of sewer gasses and other unpleasant problems.
5) Poor Air Quality - Indoor air pollution is another common problem. Poor indoor air quality can be caused by many different things like carpets, mold, mildew, resins, pollen, etc. and are aggravated by things like poor air turnover or high humidity from an oversized unit. A reputable contractor can help to correct these problems by fixing your air and heating system and adding accessories to further assist in eliminating these contaminants.
6) Refrigerant Leaks - It is extremely important that the coolant or Refrigerant level of an air conditioning system be checked often. A 10% loss of Refrigerant or coolant will cost the home or business owner 20 percent more in electrical costs and can cause undue wear and tear on your unit. More on refrigerant leaks
Company Profile of Ra-Jac Services Air Conditioning and Heating TX - Our goal - Since 1966 we have been providing professional and affordable residential, commercial and industrial air conditioning and heating service and installation to our customers in and around the Galveston County area. Our goal is exemplary service built on honesty, education, certification, and high ethical standards. As a result we are quickly growing into one of the leading heating and air condition service companies in the Southern Texas area.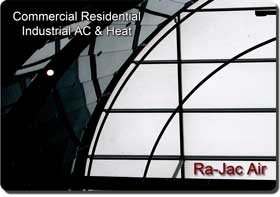 Call us at (409) 945-4171 for service in the following Areas - If you are in the Algoa, Arcadia, Bacliff, Bayou Vista, Clear Lake City, Clear Lake Shores, Dickinson, El Lago, Friendswood, Galveston, Hitchcock, Kemah, La Marque, League City, Nasa Area, Nassau Bay, San Leon, Santa Fe, Seabrook, Taylor Lake Village, Texas City, Tiki Island, or the Webster Texas areas and want a professional to maintain your air conditioning, heating or air cleaning and filtration system contact us at (409) 945-4171. We provide 24-hour emergency service to keep your home and office air conditioner and heater working efficiently and effectively. Your comfort is our top priority.
10 REASONS TO CHOOSE RA-JAC