Saving Money on Central Air Conditioning and Heating Bills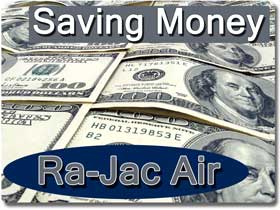 Saving on Central Air Conditioning and Heating Bills - Air conditioners are responsible for the major part of most peoples electric bills during the summer months and heaters are responsible for a large part of the utility bills during the winter. While they can be significant there are several simple things you can do to cut back on our bills. (See Also Saving Money on Utility Bills and Saving Money on Gasoline Costs)
(See Also Saving Money on Utility Bills and Saving Money on Gasoline Costs)

Potential for Savings - Air conditioners are responsible for the major part of most peoples electric bills during the summer months and heaters are responsible for a large part of the utility bills during the winter. While they can be significant there are several simple things you can do to cut back on our bills.
1) Maintain Your System - With the proper maintenance your air conditioning and heating equipment will work more economically and be dependable for years to come. With a few easy and routine procedures you can keep your unit at peak performance and get the maximum amount of comfort from your HVAC system. For more information on self maintenance on your central air conditioner or heater click here.
2) Get a Tune Up - To keep your central air conditioner and heater working to its fullest potential occasionally you need a tune up. If you choose to skip regular maintenance you will find yourself paying for a major repair down the line. If you skip your regular maintenance, you will cost yourself money and be inconvenienced in the long run. For maximum performance and long life have a professional perform needed maintenance on your air conditioner in the spring and your furnace or heat pump in the fall. For more information on professional maintenance on your central air conditioner and heater click here.

3) Have Refrigerant leaks repaired - Leaks in your system will lower its efficiency and will only get worse with time. Refrigerant is not a fuel source it is only a cooling medium and like the water in your radiator it should only need to be replaced if there is a leak.
4) Buy an Efficient Unit - On of the most important things to consider when purchasing a unit is the efficiency. The higher the efficiency of the unit the more it will cost you in the beginning but an investment in a higher efficiency system will return your investment many times over in cost savings over the course of the equipments life span. Air conditioner efficiency is rated in SEER or Seasonal Energy Efficiency Rating. SEER ratings tell you how much cooling you get back for a unit of electricity so the higher the number the more you get for your money. Before 1992 most units manufactured were at a 6.0 SEER rating. Today the lowers efficiency unit you can buy is a 10.0 and high efficient units start at 12.0. If you replaced a unit that was rated at 6.0 with a 12.0 you would save half of the cost of the electricity to run the unit. Two speed units can run on low speed 80% of the time which allow them to get ratings as high as 16.0+ SEER. Most heaters are rated in AFUE or Annual Fuel Utilization Efficiency. AFUE measures the amount of heat actually delivered to your house compared to the amount of fuel that you must supply to the furnace. A furnace that has an 80% AFUE rating converts 80% of the fuel that you supply to heat and the other 20% is lost out the chimney. AFUE refers only to the unit's fuel efficiency and not its electrical usage.
5) Get a Programmable Thermostat - You should consider investing in a programmable thermostat especially if your house is empty for part of the day. This will allow you to set your unit to a more efficient temperature while you are gone and then have it drop back to a comfortable level thirty minutes before you are due to arrive home. Some people also like to set a different temperature for when they are asleep then their waking hours. Most thermostats can be set for a particular day of the week so you can bypass your program or change it on days when you are home like weekends.
Buy a High Quality Digital Thermostats
6) Match the Indoor and Outdoor Units - If you have to change the outdoor air conditioning or condensing unit consider changing the indoor coil to match it. Ask your contractor if the indoor or evaporator coil is compatible or if it also needs to be changed. Mismatching a high efficient condensing unit with a low efficient indoor coil can not only cost you most if not all of the added efficiency but can also damage your compressor valves and cause your compressor to wear out much sooner than it normally would.
7) Adjust the Thermostat - Set your thermostat a few degrees higher in the summer and a few degrees lower in the winter. Many experts agree that 78°F is a good starting point in order to save money. Every degree below 78°F that you set your thermostat for AC will increase your energy usage by around 8 percent.
8) Don't Humidify in the Summer - Don't use a dehumidifier at the same time your air conditioner is operating because it will force the air conditioner to work harder.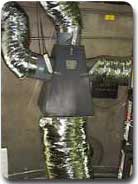 9) Properly Seal your Ducts - Have your ductwork checked to see if it needs any repairs or if it needs to be replaced. If some rooms in your home are too hot or too cold, if the insulation is peeling or if there is a buildup of contaminates inside consider having your ducts evaluated to see if they need replacing. Also return grilles and grills in each room should be evaluated to see if they are properly sized and working correctly.
10) Don't Run the Continuous Fan - As a rule it is a good idea to set your air conditioner fan setting to auto instead of on. Air conditioners make very inefficient fans. Use a ceiling fan instead.
11) Consider Zoning your AC and Heating Unit - Many people can save energy from heating and cooling costs by using a zoned system. Zoned systems can be as simple as two heating and cooling systems, one for two different parts of the house such as one for upstairs and one for downstairs or they can be a bit more complex utilizing baffles and separate thermostats so that you can heat and cool only the areas you need. If you live in a two-story home and spend most of your time downstairs you should keep your downstairs air conditioning running and turn off the upstairs unit when not in use. At night while you are asleep you may find it is possible to reverse the process if the downstairs in unused.
12) Repair Air Leaks - You should have a professional examine your air conditioning unit and see if air is leaking out of it. Some experts report the average home leaks 30 percent of air that the AC and heating unit is putting out. This is a huge source of wasted energy that can be easily recouped.
10 REASONS TO CHOOSE RA-JAC