Clear Lake Shores Air Conditioning & Heating Repair & Installation - Ra-Jac
Clear Lake Shores TX - 77565 - We are proud to offer our friends and neighbors of the Clear Lake Shores Texas area prompt and friendly service. We are experienced and familiar with the specific needs of the community and can get the job done right the first time. If you are in the Clear Lake Shores area and want professional and affordable service or installation of your air conditioning, heating, air cleaning, ventilation or commercial refrigeration equipment please call us at (409) 945-4171. Give us a call and let us help you with your system. We look forward to hearing from you.
For Immediate Service call us at (409) 945-4171 - We provide top notch service to keep your home and office air conditioner and heater working efficiently and effectively even in the heat of the Texas summer. Your comfort is our top priority and we take it seriously. Call and let us show you what our company can do for you.
Our Intent - Since 1966 we have had one goal, to be the best. We have been providing professional residential, commercial and industrial air conditioning and heating service and installation for an affordable price to the Nassau Bay area since 1966. Our intent is to offer our customers the best possible service built on a foundation of honesty, education, certification, and high ethical standards. As a result of high customer satisfaction, and our desore to be the best we are quickly growing into one of the leading heating and air condition service companies in the area. Thank you Clear Lake Shores TX for assisting in this.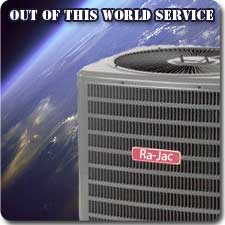 Company Profile - At Ra-Jac Sales and Services we pride ourselves on providing the best service and equipment available at an affordable price. We are located in nearby Texas City, TX USA where we have served the community's Air Conditioning and Heating needs for over 40 years. We are a company that was founded on a simple idea, be honest and straightforward with the customer and work hard to provide them with the best possible job. We believe these are the foundations of a successful business. We are licensed, bonded and fully insured. Please give us a call.
Contact us for service in the Galveston County and Bay Area at (409) 945-4171
We Service all Brands - Ra Jac Sales and Services offers a complete line of air conditioners, electric and gas heaters and heat pumps to meet your every need. We offer full service on Carrier, Payne, Byrant, Heil, Lennox, Trane, Whirlpool, Tempstar, Arco, Armstrong, Bard, Bohn, Coleman, Amana, American Standard, Day & Night, Fedders, Climatrol, Airtemp, Hunter, Emerson, Friedrich, Intertherm, Janitrol, Goodman, Ruud, Rheem, Westinghouse, York and all other brands.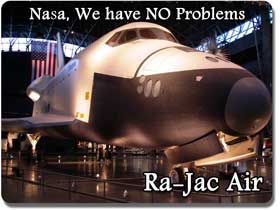 We offer solutions - We can offer specific solutions for difficult problems common to the Nassau Bay area like air borne allergies, dust and dust mites, hot and cold spots, cutting high AC and heater energy costs, carbon monoxide leaks and detection, lost efficiency, duct leakage, custom duct work design, zoning systems, air filtration, air cleaners and purification systems, dehumidifiers and humidifiers, digital and programmable thermostats, service agreements, annual inspections, and many other problems. We offer comprehensive estimates for new installation and accept cash, checks, and most major credit cards.
Please contact us for service or if you have questions.
(409) 945 - 4171
Fun Facts

Yachting Capital - Clear Lake Shores is considered to be "The Yachting Capital of Texas".
Boat Slips - Clear Lake Shores has more boat slips than people.
Recreational Retreat - During the oil boom in the 20s real estate developers sold properties around Clear Lake as waterfront recreational homes in this small area which they named "Clear Lake Shores."
10 REASONS TO CHOOSE RA-JAC