Coleman Air Conditioning & Heating Repair & Installation with Ra-Jac Services Texas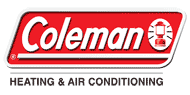 Our Texas Service Areas -- If you are in the Algoa, Arcadia, Bacliff, Bayou Vista, Clear Lake City, Clear Lake Shores, Dickinson, El Lago, Friendswood, Galveston, Hitchcock, Kemah, La Marque, League City, Nasa Area, Nassau Bay, San Leon, Santa Fe, Seabrook, Taylor Lake Village, Texas City, Tiki Island, or the Webster Texas areas and want a professional to service, install, or maintain your air conditioning, heating or air cleaning and filtration system contact us at (409) 945-4171.
(409) 945-4171
Coleman® Heating & Air Conditioning home comfort systems are designed and built to provide maximum quality, comfort, and efficiency to your home. Whether you're looking for a furnace, an air conditioner or a complete heating and cooling solution, your Coleman® Dealer can evaluate factors such as your home's size, age, number of rooms, regional climate, and utility costs to select the best system for your home.
Coleman® "Split System" Air Conditioners - Coleman® comfort is yours all summer long with our split system air conditioner design. This design has two parts: an indoor unit, such as a furnace or air handler, and an outdoor unit. The outdoor unit works by cooling a refrigerant, which in turn cools air in the indoor unit for circulation through your home. Indoor and outdoor units are designed to work together. When the air conditioner is properly matched with a furnace or air handler, you get maximum efficiency and longer system life.
The Coleman® AC5B system has been recognized as a smart investment by a leading consumer magazine – your assurance of getting a quality product at an exceptional value.
Coleman® Furnaces - A cozy family gathering, a relaxing evening, a quiet winter's morning—your comfort needs change throughout the day. And when a Coleman® furnace is properly matched with a Coleman® air conditioner or air handler, you will enjoy extended system life and maximum efficiency all year around.
Coleman® "Split System" Heat Pumps - Coleman® comfort is yours all season long with our split system heat pump design. In summer, it draws heat out of your home to cool it. In the winter, it draws heat from outside air into your home to warm it. Many heat pumps have a booster electrical-resistance heater that automatically heats outside air even more. Outside air always has heat in it — even at very low outdoor temperatures.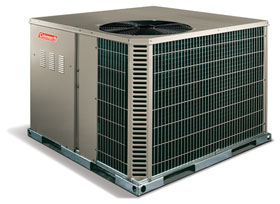 Coleman® Packaged Heat and Cooling Systems - In a packaged system, all equipment is built into an outdoor unit, usually on a concrete slab or other platform. The "package" that gives it its name provides central air conditioning during the summer and heat in colder months.
Models available use:
* Electricity for resistance heating and cooling
* Gas for heating and electricity for cooling
* Heat pump models using electricity
The efficiency of packaged systems are rated using SEER (for cooling efficiency), AFUE% (for gas heating efficiency) and HSPF (for heat pump efficiency). Ductwork is required to transfer the heated or cooled air throughout the home.
Coleman® Heating & Air Conditioning offers a variety of packaged systems in different sizes and efficiencies.
10 REASONS TO CHOOSE RA-JAC