Finding a Reputable Air Conditioning and Heating Contractor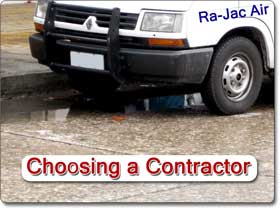 Find a Reputable Air Conditioning and Heating Contractor -General information on what to look for in a Air Conditioning and Heating Contractor. If you had a problem with your air conditioning or heating system there was a time when almost anyone with mechanical skills could repair it for you. With today's equipment this is no longer the case. If your air conditioner or heater breaks down you need the services of licensed contractor who has the knowledge, proper tools and equipment, and experience to do the job right the first time and not leave you in worse shape that when you started.
Why Cheap Isn't Cheap - If you have a problem with your air conditioning or heating system you may get advice from acquaintances who suggest someone who does work for a very cheap price. Perhaps this person is a friend of a friend or someone who does the work in their spare time. Take our advice and think very carefully before you let just anyone work on your system. There was a time when you could pull your car under the shade of a tree and almost anyone with mechanical skills could repair it for you. This also used to be true of air conditioning equipment. Today's equipment contains computer technology and advanced system designs that can only be properly repaired by a professional. Improper installation, repair and start up can result in early system failure and cause the need for additional maintenance throughout the life of the equipment as well as expensive equipment failure and dangerous safety conditions.
General information on what to look for in a Air Conditioning and Heating Contractor.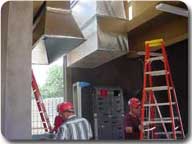 1) Licensed, Insured and Bonded - Make sure any contractor you consider is licensed in the state for the work which you require them to perform. Contractors are required to take tests to prove they have the skills to do the type of work for which they are licensed. Also make sure they carry the proper insurance, including workers compensation and are bonded to insure against damages to your home and property.
2) Make Sure They are Listed - Get a business address and telephone number. Reputable companies will be happy to give out this information. If they don't have a valid business address and proper contact information then they are likely to be gone when warrantee repairs need to be done.
3) Make Sure they Have an EPA License - Make sure any company you deal with has the proper EPA license for the equipment they are servicing. An EPA license is different than a state license and is required to handle refrigerants and to make sure that they are not contaminated and are properly disposed of when removed. (Air Conditioning only)
4) Consider their Business History - When dealing with a contractor ask how long they have been in business. Especially in a smaller community businesses that have been around a while are generally more honest, better trained, and have a reputation for keeping their customers satisfied.
5) Require the Proper Recycling Equipment - Ask what type of recovery system they use for refrigerants. A reputable contractor uses a recycle recovery machine to reclaim any refrigerant which must be removed from the system saving you money and protecting the environment from harmful refrigerants. (Air Conditioning only)
6) Require the Proper Heater Testing Equipment - Ask what type of carbon monoxide detection device they use to determine the safety of your heating system. A reputable service person will use a high quality detection system able to read carbon monoxide or CO down to 1 part per million. (Heating only)
7) Don't be afraid to ask for references - You can also ask friends and family members if they have a company they are happy with but remember to apply the above criteria before making a final decision.
8) Check with the Better Business Bureau for a Report - The BBB offers reports on companies online that can be easily accessed. If the company has a complaint on file or multiple complaints determine if this the percentage of complaints are higher or lower that usual. Also the nature of the complaint is important so be sure to do your homework.
9) Check with Local Officials - Check with the building inspector or other local officials in the area to ask if the company is reputable and has any complaints on file.
10) Watch Out for Wild Claims - If a contractor makes wild and unrealistic claims like "free" equipment or other unrealistic promise be wary. You may want to choose a company that offers straight forward pricing and avoids making unrealistic claims and promises so you know what you are getting up front with no surprises.
Company Profile of Ra-Jac Services Air Conditioning and Heating TX - Our goal - Since 1966 we have been providing professional and affordable residential, commercial and industrial air conditioning and heating service and installation to our customers in and around the Galveston County area. Our goal is exemplary service built on honesty, education, certification, and high ethical standards. As a result we are quickly growing into one of the leading heating and air condition service companies in the Southern Texas area.
Our Texas Service Areas -- If you are in the Algoa, Arcadia, Bacliff, Bayou Vista, Clear Lake City, Clear Lake Shores, Dickinson, El Lago, Friendswood, Galveston, Hitchcock, Kemah, La Marque, League City, Nasa Area, Nassau Bay, San Leon, Santa Fe, Seabrook, Taylor Lake Village, Texas City, Tiki Island, or the Webster Texas areas and want a professional to maintain your air conditioning, heating or air cleaning and filtration system contact us at (409) 945-4171. We provide top notch service to keep your home and office air conditioner and heater working efficiently and effectively. Your comfort is our top priority.
10 REASONS TO CHOOSE RA-JAC