Goodman Air Conditioning & Heating Repair & Installation with Ra-Jac Services Texas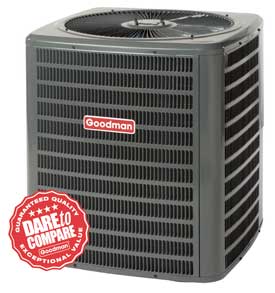 Our Texas Service Areas -- If you are in the Algoa, Arcadia, Bacliff, Bayou Vista, Clear Lake City, Clear Lake Shores, Dickinson, El Lago, Friendswood, Galveston, Hitchcock, Kemah, La Marque, League City, Nasa Area, Nassau Bay, San Leon, Santa Fe, Seabrook, Taylor Lake Village, Texas City, Tiki Island, or the Webster Texas areas and want a professional to service, install, or maintain your air conditioning, heating or air cleaning and filtration system contact us at (409) 945-4171.
(409) 945-4171
Goodman - Goodman® has been building quality brand air conditioning and heating equipment since 1982. Given our nearly three decades of experience in the heating and cooling business, our customers can be assured that Goodman brand air conditioning and heating systems meet the highest industry standards and are installed by some of the best and most experienced professionals in the industry.
When you choose the Goodman brand, you can rest assured that you'll receive a refreshingly affordable product that's covered by what we believe to be the best product warranties in the heating and cooling industry.
We encourage you to explore our site to learn first-hand about our quality products, our industry-leading warranties, and the vision of our founder: to provide high-quality heating and air conditioning to consumers at a refreshingly affordable price.

Goodman Manufacturing Company, L.P. - Goodman has become one of the largest manufacturers of residential and light commercial air conditioning, heating, and indoor air quality products and systems by focusing on just one thing—building the most reliable and refreshingly affordable indoor comfort products in the market.
The complete line of Goodman® brand products are built on the principals of founder Harold Goodman, a former air conditioning contractor.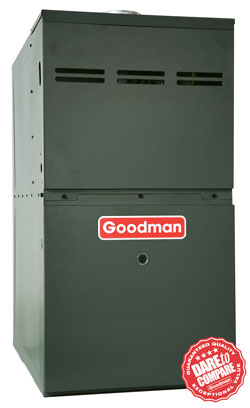 Harold's goal was to manufacture air conditioning and heating equipment that provides industry leading product warranties. offers greater reliability and longer-lasting performance than competing products. is designed for quick, trouble-free installations. and makes reliable cooling and heating as affordable as possible.
Building their products to Harold's standards, and protecting those products with some of the best limited warranties in the industry, has helped to make the Goodman brand widely recognized as a leading brand in the residential and light commercial heating, ventilation and air conditioning industry today.
10 REASONS TO CHOOSE RA-JAC