Carrier Air Conditioning & Heating Repair & Installation with Ra-Jac Services Texas
Our Texas Service Areas -- If you are in the Algoa, Arcadia, Bacliff, Bayou Vista, Clear Lake City, Clear Lake Shores, Dickinson, El Lago, Friendswood, Galveston, Hitchcock, Kemah, La Marque, League City, Nasa Area, Nassau Bay, San Leon, Santa Fe, Seabrook, Taylor Lake Village, Texas City, Tiki Island, or the Webster Texas areas and want a professional to service, install, or maintain your air conditioning, heating or air cleaning and filtration system contact us at (409) 945-4171.
(409) 945-4171
Carrier Corporation was founded in 1915 and its is in Headquarters Farmington, Connecticut. They have approximately 43,000 employees and are the world's largest manufacturer and distributor of heating, ventilation and air conditioning (HVAC) systems. Carrier is a major supplier of commercial refrigeration and food service equipment as well as carrying a large line of residential and specialty equipment.
The Carrier Corporation was based in Syracuse from the 1930s. Due to increasing labor and union costs Carrier has moved to several other areas. Carrier is the largest air conditioning manufacturer in the world with facilities in Indianapolis, IN, Collierville, TN, Tyler, TX and Charlotte, NC.
Carrier Corporation also manufactures Bryant, Day & Night, and Payne Heating and Cooling Systems, as well as additional brands through International Comfort Products (ICP).
Carrier's is known for several brand names like Weathermaker furnaces and air conditioners, Centurion rooftop units, and Aquazone water and ground source heat pumps.

Willis Carrier is credited with the invention of modern air conditioning in 1902. Carrier succeeded in taking their air conditioner to the residential market in the 1950s. He is credited with helping sparsely populated areas became home to sprawling suburbs and commercial ventures that were not practical without air conditioning.
Making the World a Better Place To Live, Work and Play - From the time our founder invented the basics of modern air conditioning in 1902, Carrier has been the world leader in air conditioning, heating and refrigeration systems. A wholly-owned subsidiary of United Technologies Corporation, Carrier is built upon a legacy of innovation and commitment. Through our market-leading products and solutions, we are constantly striving to help people live more comfortable, healthy and productive lives.

Ensuring Comfort Around the World - Across the globe and in virtually every facet of daily life, Carrier is there. They create comfortable environments, regardless of the climate. We safeguard the global food supply by preserving the quality and freshness of food and beverages. We ensure health and well-being by enabling the proper transport and delivery of vital medical supplies under exacting conditions. We provide solutions that maintain exceptional indoor air quality — controlling humidity, allergens and harmful pollutants. At every touch point with consumers and in every commercial undertaking we pursue, we are committed to delivering exceptional products and services that meet our customers' diverse needs.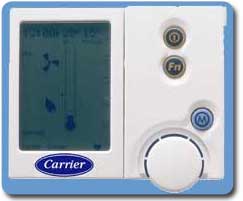 As a global citizen, they also recognize the vital importance of maintaining a responsible balance between the comfort we create today and the world we live in tomorrow. Carrier is an industry leader in energy efficiency, dedicated to creating environmentally sound products and solutions that fulfill our customers' demands while preserving our precious natural resources.

Leading the Global Market - Headquartered in Farmington, Connecticut, USA, with approximately 45,000 employees in 172 countries, Carrier combines its global HVAC and refrigeration expertise with the responsiveness of its local operations to lead nearly every geographic market, on every continent. Their continued success is a testament to our staunch commitment to providing the highest level of quality and service to our customers around the world.

10 REASONS TO CHOOSE RA-JAC