Payne Air Conditioning & Heating Repair & Installation with Ra-Jac Services Texas
Our Texas Service Areas -- If you are in the Algoa, Arcadia, Bacliff, Bayou Vista, Clear Lake City, Clear Lake Shores, Dickinson, El Lago, Friendswood, Galveston, Hitchcock, Kemah, La Marque, League City, Nasa Area, Nassau Bay, San Leon, Santa Fe, Seabrook, Taylor Lake Village, Texas City, Tiki Island, or the Webster Texas areas and want a professional to service, install, or maintain your air conditioning, heating or air cleaning and filtration system contact us at (409) 945-4171.
(409) 945-4171
Payne Heating & Cooling had its beginnings in 1914 when D.W. Payne and his son began building gravity-type furnaces in a barn in Los Angeles that they converted for the purpose. They gained success when they offered the first floor furnaces that could be easily installed in a crawl space area.
In the early 1930's Payne created and marketed the first forced-air, down-discharge furnace as well as a forced-air furnace that was approved for closet installation. In 1950 Payne was one of the first to offer perimeter heating and zone heating.
Carrier Corporation formed the BDP Company in 1974 which combined Payne, Day and Night, and Bryant.
Payne produces highly efficient and well made air conditioners, gas furnaces, heat pumps, coils, and many others.
How does Payne know their customers so well? Simple. Nearly 100 years of experience. There are no short cuts when building a brand that stands for dependable products at the best possible price. The same principles that made D.W. Payne and his sons successful in 1914 are still very evident today. When you choose Payne® products, you're getting more than just a name. You're getting attractive, affordable products that work. Dependability is our value. That's the Payne promise.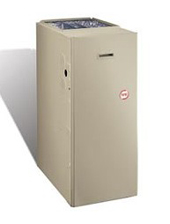 Carrier Corporation formed the BDP Company in 1974, where Payne became the "P" in BDP. During the 1980's Payne improved its product efficiencies and began to expand from its strength in the west and southwest into the Midwest and northeast. This expansion continued into the 1990's when Payne expanded into the southeast states. In 1997, Payne completed its national expansion and changed its positioning to be the right products distributed at the right place, sold at the right price, and available right now.
Today, Payne maintains a simple line of highly efficient and dependable products such as air conditioners, gas furnaces, heat pumps, indoor coils, duct-free splits, and small packaged products. Homeowners who want dependable heating and cooling systems at a reasonable price turn to Payne.
10 REASONS TO CHOOSE RA-JAC