Amana Air Conditioning & Heating Repair & Installation with Ra-Jac Services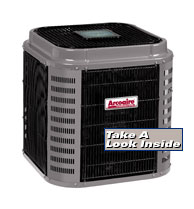 Our Texas Service Areas -- If you are in the Algoa, Arcadia, Bacliff, Bayou Vista, Clear Lake City, Clear Lake Shores, Dickinson, El Lago, Friendswood, Galveston, Hitchcock, Kemah, La Marque, League City, Nasa Area, Nassau Bay, San Leon, Santa Fe, Seabrook, Taylor Lake Village, Texas City, Tiki Island, or the Webster Texas areas and want a professional to service, install, or maintain your air conditioning, heating or air cleaning and filtration system contact us at (409) 945-4171.
(409) 945-4171
Generations of Americans have trusted the Amana® brand for heating and cooling systems that outlast the others. Today, everyone associated with the Amana brand is proud of that history, and they remain true to our principles of integrity and dependability. They're committed to a job well done – and it shows.
The renowned quality, durability and performance of today's Amana brand heating and cooling systems continue to provide homeowners and businesses with premium, lasting comfort. Just as they've always done.
Air Conditioning Systems - Don't risk the indoor comfort of your home. For long-lasting performance, install an Amana brand central air conditioning system in your home. Keep your home cool, save energy costs, and enjoy what we believe to be industry-leading warranty protection. Compare the features and benefits of an Amana brand central air conditioning system and you will discover why more and more homeowners choose the Amana brand. To find the highest efficiency air conditioning system for your home, look for the higher SEER numbers.
Heat Pump Systems - Amana® brand heat pumps provide both cooling and heating comfort from a single system. You'll be able to select the perfect system for your home as the Amana brand offers a full line of heat pump systems. Plus you'll get even more comfort from what we believe to be the best warranty protection in the heating and cooling industry. For the greatest energy efficiency savings, select a heat pump system with the highest SEER and HSPF ratings.
Packaged Air Conditioners - Amana® brand packaged systems offer long-lasting heating and cooling performance in a single unit. Packaged air conditioners efficiently keep you cool in the summer. Packaged systems offer the long-lasting quality, durability, and performance widely appreciated with the Amana brand – and backed by what we consider to be industry leading warranty coverage.
Indoor Air Quality - No one wants to breathe dirty, contaminated air in their home. You can improve the quality of the indoor air in your home by installing Amana brand indoor air quality products. A clean heating and cooling system operates more efficiently than a dusty, dirty system compared to a system that does not have enhanced filtration components. Amana brand humidifiers help add moisture, ventilators exchange fresh air with stale indoor air, electronic or media air filters will clean and remove indoor air contaminants, and ultraviolet lights eliminate several germs and bacteria from your indoor air. All Amana brand indoor air quality products are covered by what we believe to be industry leading warranty coverage
10 REASONS TO CHOOSE RA-JAC